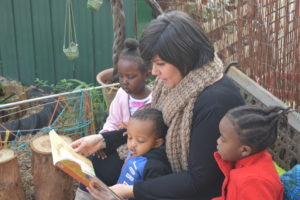 Your child will be provided with a portfolio folder, which is given to you at the end of its journey with us. These portfolios contain meaningful Child Assessments that document their learning and interests, diary entries, artwork and records of their individual development and experiences.
Child Assessments will be emailed to families and placed in your child's portfolio. Families are also given the opportunity to write home stories, which can contain photos, memoirs, or simply a fun family event.
We encourage families to read and comment on their children's portfolio entries as this input is valued and used to plan for your child's specific needs and activities which happen throughout the service.
Our Goals for the Children
To have an environment where each child has equal rights and will be encouraged to be responsible for his/her actions.
To provide an environment that encourages positive self-esteem and self-confidence to develop within each child.
To be able to communicate effectively and express feelings, thoughts, reactions and ideas without fear of rejection.
To feel that the cultural identity of each family is acknowledged as important and valued in the service.
To respond to the needs and rights of children.
For each child to feel valued, safe and secure.
For each child to develop a sense of responsibility in caring for the environment in which they live.
For each child to develop satisfying interpersonal relationships with adults and children, enhancing the sense of trust in those around them.
For each child to develop a positive and inquisitive attitude to learning and knowledge.
For each child to have the opportunity for choice and decision making.
Families Rights
It is the right of all families to:
Expect that their child is safe, secure, respected and valued at all times.
Be listened to and treated with respect.
Feel able to openly contribute to the service in a meaningful way.
Communicate freely with educators whenever possible without fear of judgement or rejection.
Voice opinions and suggestions to management and educators.
Have access to the service at all times and feel valued